Kip and Twiggy are the chief taste-testers here at the website. That is their only significant contribution (other than moral support). Their hobbies are sleeping, pooping, rolling in poop and barking at squirrels.
Our Mission
As dog owners around the world are waking up the somewhat unsavoury ingredients traditionally found in dog treats, we thought it would be useful to start publishing articles about natural alternatives.
As we scoured the internet, we struggled to find reliable, in-depth knowledge about the nutrition, safety, benefits and risks of feeding dogs natural treats. And so we took matters into our own hands and started working with vets to answer the questions we had, as well as those we saw popping up again and again in the forums.
We hope you find the result helpful.
Meet the Humans
This website is maintained by Conrad and Ewan, both from Edinburgh. Ewan is an internet geek and Conrad runs his own dog training business, Tail Academy.
Here are the vet writers we work with to bring you our top-notch content.
Jo de Klerk (nee Hardy)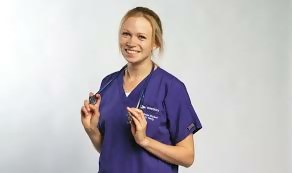 Dr Jo de Klerk, BVetMed (Hons) MScTAH MRCVS is a graduate of the Royal Veterinary College, London. She is a published author of several books and has two dogs: a slightly nutty Springer Spaniel and a loving little Yorkshire Terrier.
Dr Joanna Woodnutt MRCVS
After graduating from the University of Nottingham, Dr Joanna Woodnutt MRCVS went on to work in small animal practice in the Midlands where she discovered a love for consulting. She now works as a part-time relief vet and part-time pet writer, and loves the fact she gets to deep-dive into the science behind pets much more than she ever did as a hands-on vet.